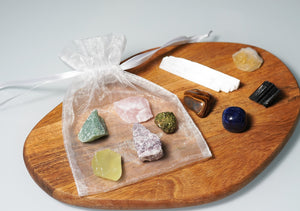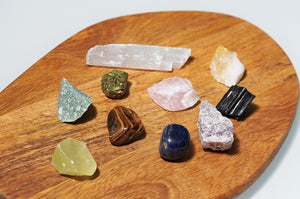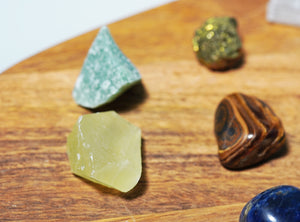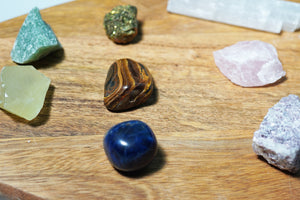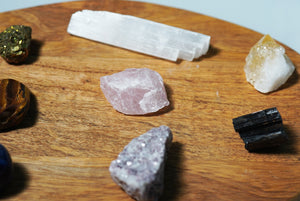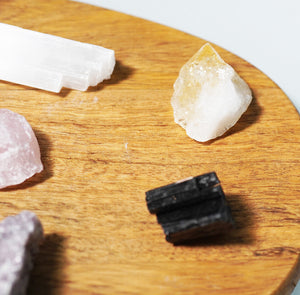 "The Right Environment" Crystal Kit
There are 10 healing crystals in this kit: rose quartz, green calcite, citrine, selenite, black tourmaline, sodalite, tigers eye, lepidolite, aventurine and pyrite.  Plus a bonus piece of fluorite as a token for staying safe & healthy.  These stones were selected to energize, cleanse and balance your environment during this time of self quarantine and social distancing.  We are offering more than a 50% discount on this kit to commend those thinking of others by staying at home.  Each kit comes with a white organza bag and our in-depth Healing Properties Write-Up for each crystal.
Healing Crystal Quick Summary: 1.) Rose Quartz - encourages self love.  2.) Green Calcite - provides a renewed sense of purpose & vitality.  3.) Citrine - a cleanser of negative energies.  4.) Selenite - emits a charging & cleansing energy.  5.) Black Tourmaline - for protection.  6.) Sodalite - promotes rational thinking & helps alleviate insomnia.  7.) Tigers Eye - emits a gentle grounding energy.  8.) Lepidolite - calms anxieties & helps with depression.  9.) Aventurine - good for balancing the nervous system, stability & inflammation.  10.) Pyrite - provides a powerful protective shield from negative energy & physical danger.  11.) Fluorite - discourages chaotic growth & helps fight off infections.
---